I may be no great beauty,
Nor have grand skills that shine.
I may not be the most outgoing
Or the best companion to share one's time.
I may not fit the mold so many seek,
Nor respond in ways that flatter.
I may not always speak, nor or be silent
When there is a pressing matter.
Yet what I am is far beyond what's seen,
Deep inside I glisten and glow.
Not because of what people think or say of me,
But because of this One I know.
Because of Him I am precious indeed,
He loves and cherishes my soul.
There is no one to compare,
To my Lord, I am beautiful… He tells me so
It is this worth I have within
That is more wonderful than life.
His blood He shed for me,
And He has taken me as His bride.
He will never leave nor forsake,
Always faithful, true and good.
And because of Him, this I know;
My value and identity, in Him is understood.
©Lisa Gravely
[tweetshare tweet="He will never leave nor forsake… Always faithful, true and good." username="&wTHEpTWLYnQIeFeJJfzv2REQJMtx&4N:1:0″]
The Story Behind the Poem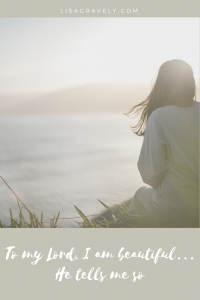 I wrote this poem at a time when my world was shaken and I struggled to figure out a lot of things. My identity had been wrapped up in being a wife and mother. When I was no longer a wife, despite my desire to remain married, a myriad of emotions attempted to overtake me. I felt abandoned. Unloved. Unwanted. No one wanted to hire someone who had been at home with children for 15 years. I returned to college, but I doubted my abilities. My value. My worth. God ever-so-gently reminded me that all those things were in His hands. My identity, value, worth, skills, gifts, and abilities… they all come from Him. And in Him I trust with my life.
So, look to God confidence. Jesus is the Way, the Truth, and the Life. Truth really does set you free!
"Now may our Lord Jesus Christ Himself and God our Father,
who has loved us and given us eternal comfort and good hope by grace,
comfort and strengthen your hearts in every good work and word."
-2 Thessalonians 2:16-17